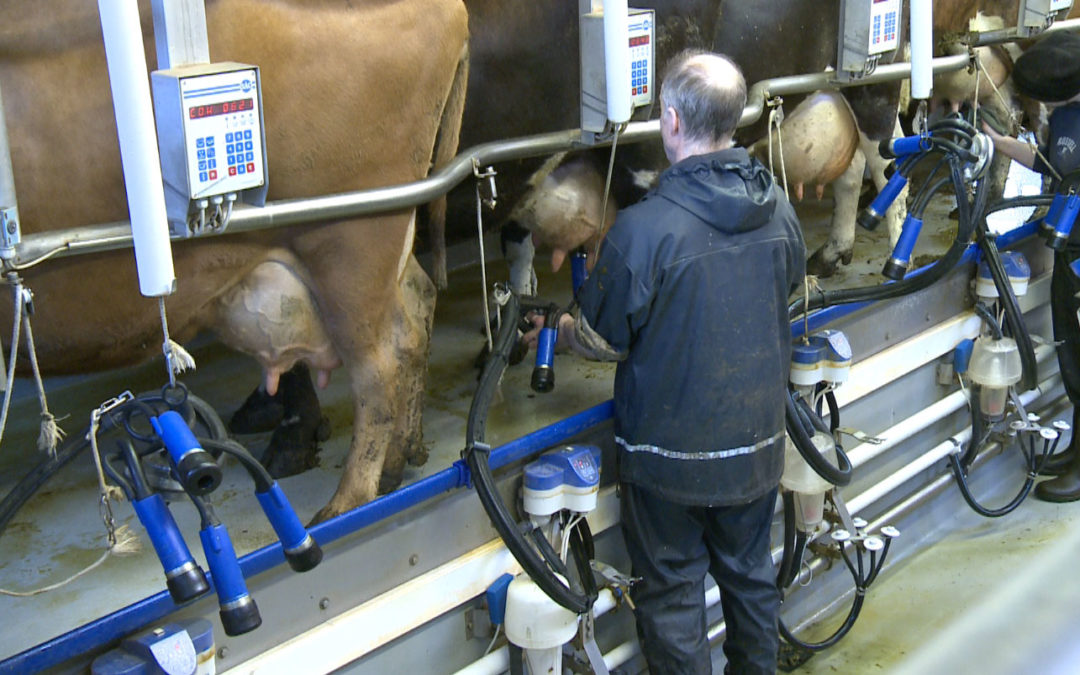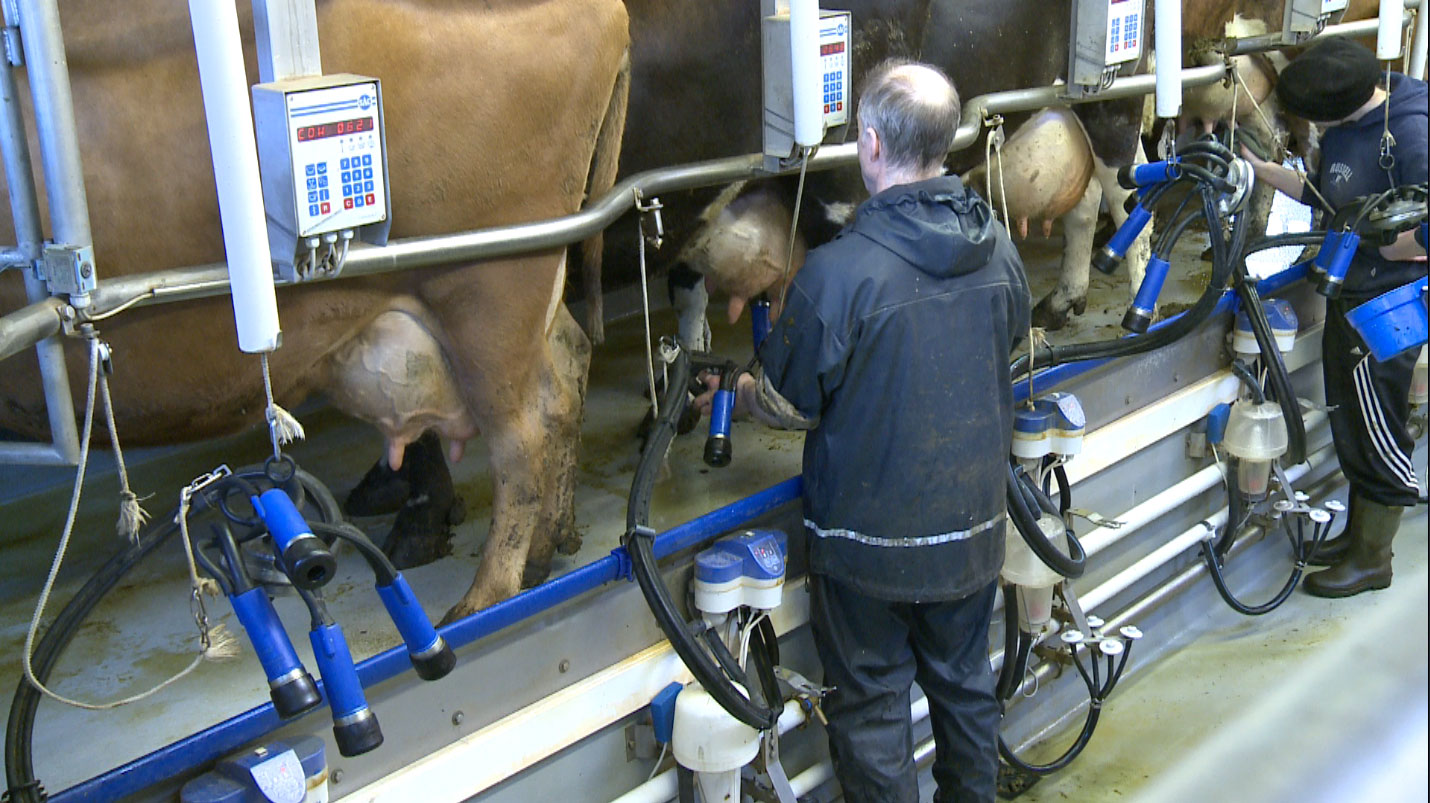 Í hinu þekkta riti Orðræða um aðferð frá árinu 1637 færir heimspekingurinn René Descartes okkur grundvallar hugmynd nútímans.  Eftir að hafa velt fyrir sér hvort hann sé að dreyma að hann sé blekktur af illum anda og heimurinn sé tilbúningur, sér hann að það þurfi þá einhvern til þess að blekkja. Meira en það, hann kynnir Sjálfið með listilegri sönnun fyrir því að hann sé annað en líkami sinn og umhverfi. Sjálfið sé þenkjandi andi (hugur eða sál) en líkaminn sé efnislegur og vélrænn.
Það sem Descartes gaf okkur var ekkert minna en sú hugmynd að maðurinn, einstaklingurinn "ég", sé aðskilinn frá hinum lögmálsbundna efnisheimi líkama, náttúrunnar og dýranna. Og um leið gefur Descartes okkur vald í krafti þessarar aðgreiningar, leyfi til þess að kryfja og kanna hinn efnislega ytri heim, stjórna honum og nýta. Með annan fótin í gall- og vessakenningum Galens tekur Descartes síðan til við að lýsa starfsemi hjarta og æðakerfisins með áherslu á hið vélræna eðli þess og tengir saman á áhugaverðan hátt tilfinningalíf mannsins og hita blóðsins. Draumarnir fæðast í hitagufum, melankólían af svörtu galli, en samspilið við andann verður alltaf dálítið stirt því tengslin eru endanlega rofin.
Í verki Óskar Vilhjálmsdóttur PUMPA (2012) sjáum við inní æðakerfi samtímans. Háræðanet sem dreifir blóði neyslusamfélagsins, mjólk og olíu, í kerfi sem er að mestu hulið flestum okkar og fjarlægt þó við töppum af því á hverjum degi. Svo aðskilið frá hinu daglega að með því að líta á það setjum við veruleikann á hliðina. Ósk tekur myndir, hugmyndir og tálmyndir, úr sínu náttúrulega umhverfi, út úr heiminum, þannig að veruleikinn verður berari á eftir, jafvel hættulegri. Andspænis því sem er svo venjulegt, hugmyndir sem koma og fara, ímyndir sem virðast hversdagslegar á yfirborðinu en birtast nú í nýju ljósi. Við erum háð þessu dreiradreifikerfi eins og sjúklingur með næringu í æð.
Líkt og í vísindaskáldskap eru slöngurnar tengdar við kjarnann sem aldrei sést. Martröð sem viðheldur blekkingunni, veruleikinn er bara ímyndanir og avatarar, og draumurinn er það sem við viljum ekki vakna upp af. Neyslusamfélagið og samspil þess við náttúruna eru megin stef þessa afhjúpunarleiks en óhuggnalegt vald peninga, tækni og framfarahyggju er skugginn sem skerpir línurnar. Þannig leikur Ósk sér að mörkunum milli þess krúttlega og skelfilega þannig að veruleikinn verður ekki samur eftir. Það eru komnir brestir í drauminn.
Ósk Vilhjálmsdóttir hefur unnið með ólíka miðla og tækni, málverk, myndbönd, innsetningar og þátttökuverk. Mörg þessara verka hafa sterka samfélagslega skírskotun, ákall um vernd nátttúrunnar og gagnrýni á efnishyggju. En fyrst og fremst eru verk Óskar vel útfærð og sannfærandi skoðun á samspili valda og ímynda listheimsins. Gagnrýni sem sveiflast frá draumkenndum órum um fjölskyldulíf og "eitthvað annað", yfir í martraðir skítlands og óljósrar ógnar af hjónabandi peningavalds og pólitíkur. Skilaboðin eru ekki áróður, ekki banal, heldur áminning um að við erum ekki aðskilin frá heiminum og náttúrunni, heldur tökum við ábyrgð á og höfum möguleika á að breyta. Að við erum ekki ein og að við þurfum að minna okkur á að kýrin gefur okkur ekki mjólkina, við tökum hana frá henni.
Njörður Sigurjónsson & Magnús Helgason
Bog of Gold – PUMP
Text by Margrét Elísabet Ólafsdóttir
In 1906, a stock company called Málmur (Metal) was founded in Reykjavík for the purpose of digging for gold in the Vatnsmýri bog. The company operated for a few years until it was riddled with the cost of the unsuccessful quest. The faith in the project was, nevertheless, great. In order to enable the digging, a drill was purchased and installed in Vatnsmýri where it stood for several years, keeping alive the hope for a quick profit.
Ósk Vilhjálmsdóttir has now remade this drill as part of the exhibition Bog of Gold. By remaking the drill in the bog surrounding the Nordic House, Ósk links the exhibition with the gold rush at the same time as she refers to the present. Her drill, however, has no intrinsic function and has instead become a symbol for its role and the role of other similar machines. Drills are ingenious inventions capable of extending and multiplying human forces. A large drill allows the man to undertake large-scale constructions, interpenetrating the earth in a quest for herbal remains which have — during long geological time — metamorphosed into matter rich of desirable qualities such as energy.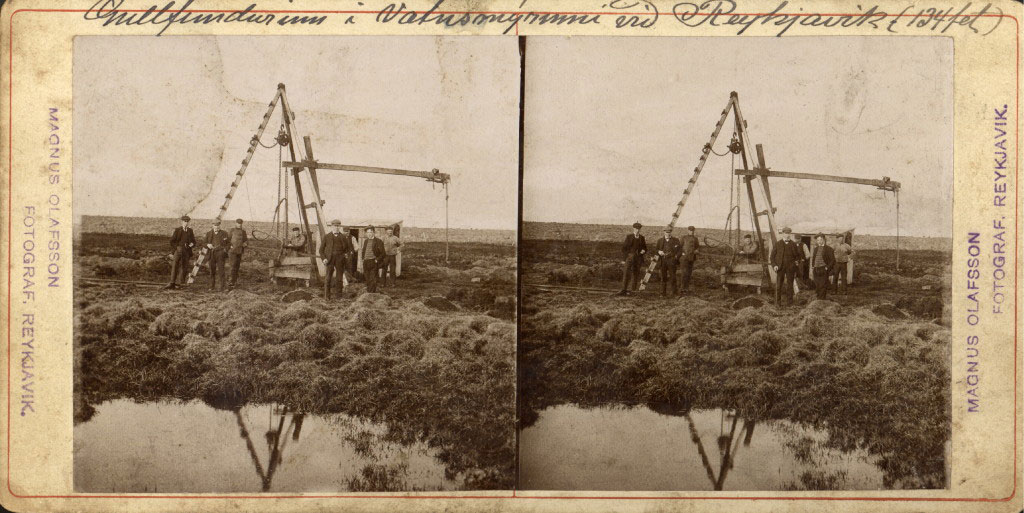 But the Vatnsmýri drill reminds us of the fact that drills are not only used to search for the known, but also for what is believed to be out there. Immediately as it pressed into the earth, it brings up minerals that need to be examined in order to determine if to continue deeper or not. When the drill enters the earth, it loosens soil which then travels up onto the surface.
Its function is thus related to the pumps in Ósk's artwork, Pump, which are also part of the exhibition. The work consists of two videos, each of them projected on a separate wall in the same room, demonstrating the modern man's modus operating at two different and seemingly unrelated jobs. One of them shows automatic milking machines whereas the other shows a giant tank lorry pumping oil onto petrol station tanks. After being sucked out of the udders by efficient pumps, the milk is transported to a dairy farm where it is used for the production of human nutrition. The oil is pumped out of the earth and then transported to petrol stations where it is pumped onto cars' fuel tanks.
Both these forms of energy — the one put onto cars and that which men get from milk — are fetched from nature. There is, nevertheless, a huge difference between the two acts. The farmer knows that he needs to nourish the cows for them to continue providing milk — a repeated circulation of milking and nourishment.
But does the same apply to those fetching black gold from the earth's innards? Oil production is different from milk production insofar as the former product is not the result of a renewable manufacturing process. As it takes such a long time for oil to form, humans are not able to assist its renewal in any way. Consequently, the oil pump questions how much longer we can continue sucking energy out of the earth.
Ósk does not answer any questions, but rather forces the viewer to think. She shows what stands between man and nature, the tools used by humans to connect with the nature that they utilize in their own interest, without which they cannot survive.
projects