land undir fót / covering the distance
7 channel video- installation in Reykjavik Art Museum 2018
In the exhibition No Man's Land – Where Beauty Alone Reigns?  was part of Reykjavík Art Festival 2018 celebrating Iceland's 100 years of sovereignty. 
"The exhibition refers to the Icelandic highlands and the Icelanders' ideas of remote wilderness unspoilt by man. People's ideas of the highlands have changed and access has greatly improved but the idea of them being untouched – that they are devoid of people – is still being promoted. These and other notions about the Icelandic wilderness have been reflected by artists in their work and shaped the public attitude towards the highlands."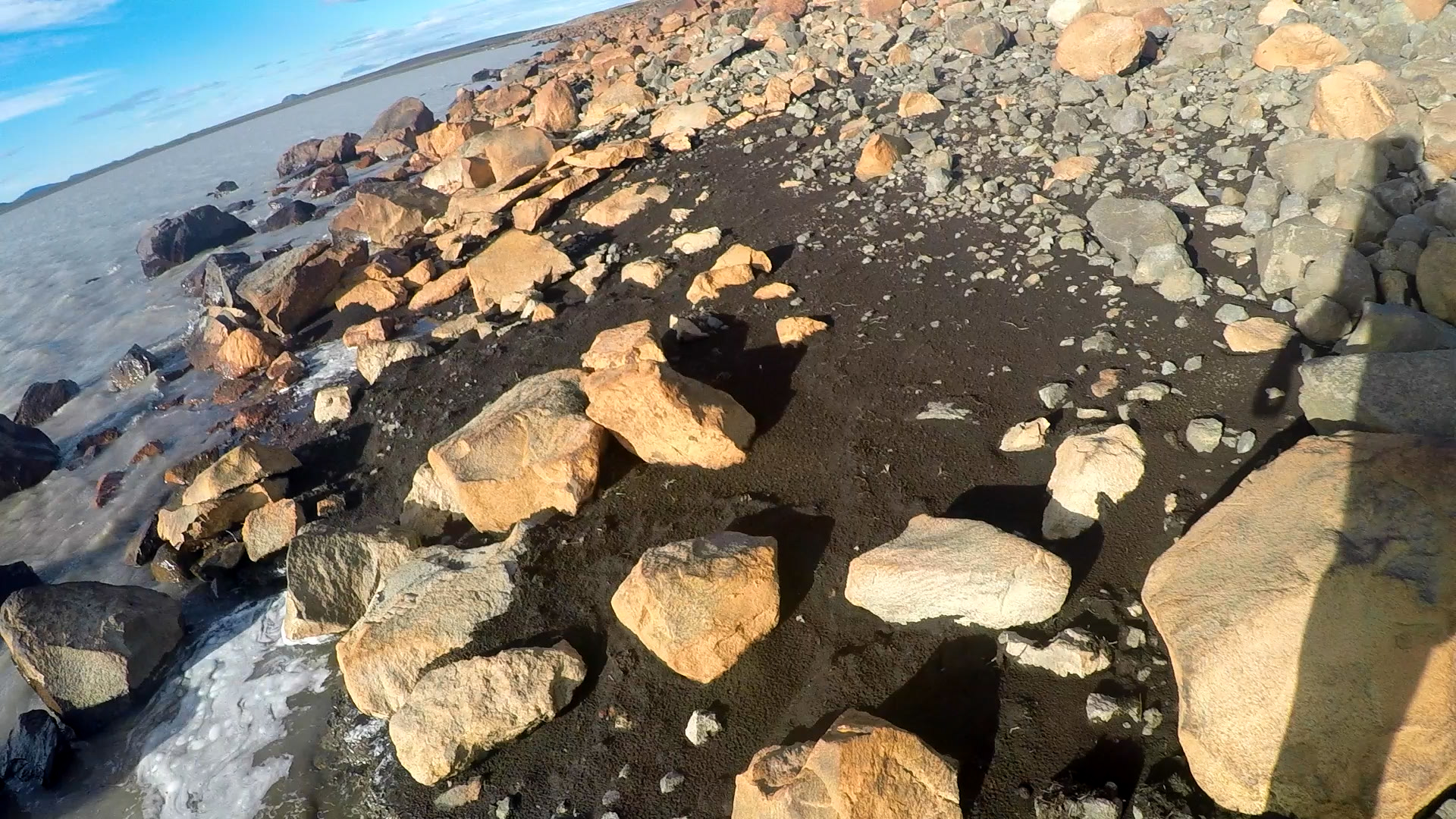 Land undir fót og fætur nema með iljunum jörð, jörðin bæði mjúk og hörð. Hörðust við upphafið, við brún jökulsins jökulsorfnar klappir og grjót. Grjótið hart en formið ávalt og mjúkt. Jörðin gróðurvana, landslagið stórskorið. Úr jöklinum spýttist svargrátt beljandi fljót, vatninu líkt við sement, mettað kornóttum aur sem með kraftinum úr fljótinu hafði mestan rofmátt allra fljóta á landinu. Fossar náðu ekki að myndast heldur slípuðust umsvifalaust niður í flúðir og flúðirnar breyttust í gljúfur sem dýpkuðu örar en önnur gljúfur og urðu að dýpstu árgljúfrum landsins. Dalurinn settur hjöllum sem mynduðu stórstígar tröppur niður að fljótinu. Fryssandi lækir trítluðu niður dalinn alla leið – silfurtærir, glitrandi mættu þeir gráum beljandanum, urðu eitt og efldust smátt og smátt og fjótið varð sífelt öflugra eftir því sem nær dró hafinu.
Annað fljót spýttist úr jöklinum á öðrum stað þar sem jökullinn er annarrar gerðar, gefur ekki af sér slíkan aur heldur fínlegt set. Léttara yfirbragð, mjúkar bugður og foss kenndur við töfra. Stuðluð gátt dýpra í dalnum við neðsta sethjall þar sem fljótin mættust, sameinuðust og urðu að sterkari heild. Á milli fljótanna þríhyrndur rani og jökullinn fyrir ofan. Kringilsárrani, aflokaður af jökli og fljótunum tveim, einangraður, afskekktur. Þó ekki afskekktur meðal dýra, þangað fljúga gæsir og þangað óðu hreindýr að vori þegar jökullinn var enn kaldur og gaf sem minnst af sér. Gæsir bjuggu sér hreiður og komu upp varpstöðvum, einum mestu á landinu enda landið búsældarlegt, öruggur staður til að ala upp afkvæmi, varinn fljótunum tvemur og stærsta jökli álfunnar. Dúandi jarðvegur og þéttur gróður, lækir og tjarnir. Skötuormar í tjörnum, Kornsúra vinsæl meðal gæsa. Hreindýrahorn á stangli, sundurnöguð af dýrum sem felldu horn en lögðu til kalkforða fyrir sig og sína. Jarðvegur þakinn gæsaskít, sundurplokkaður af gæsanefi sem stingur sér niður til að sækja gómsætt Kornsúrufræ. Í loftinu lykt úr ríki dýra en dýrin láta ekki á sér kræla, næm á mannaþef, dvelja í vari úr augnsýn. Jökullinn sérstakrar gerðar, flatur sem tunga, hleypur fram í takti við tæpan mannsaldur. Hleypur langar leiðir og skrapar upp jarðveginn. Rúllar honum upp einsog gamaldags rúllutertu. Rúllar og rúllar alla leið þangað sem hann ákveður að stoppa að sinni. Skilur eftir sig töðuhrauka. Á milli laga má lesa sögu eldsumbrota í bland við gæsaskít og hreindýrahorn. Hraukarnir mynda skjól og tjarnir. Hraukarnir félagsheimili gæsa og hreindýra og þeirra sem leggja á sig ferðalag um jökul. Kökkur í Háls, fljótin stífluð og allt varð svart.
Ósk Vilhjálmsdóttir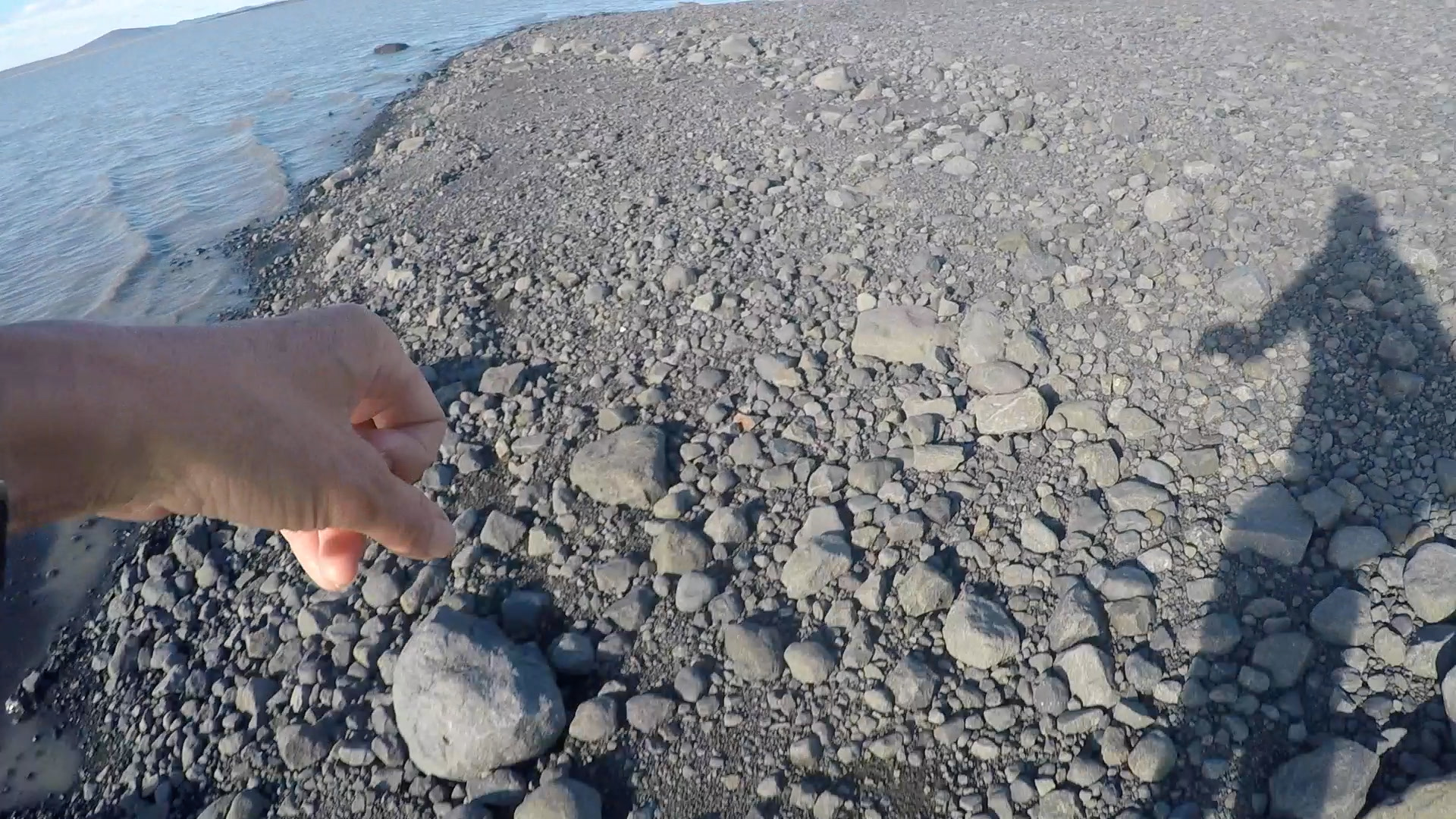 To set off on foot, feel the earth beneath your feet, earth both soft and hard. Hardest at the source, glacier's edge, glacially-abraded bedrock and boulders. Hard yet rounded, soft in form. Barren ground, rugged prospect. From the glacier jetted a dark-gray surging river, its water like cement, saturated with grainy sludge, having, under the river's force, the greatest stream-power of all rivers in the land. Waterfalls had no time to form, rather ground themselves instantly down to rapids; the rapids morphed into canyons, deepened faster than other canyons, and became the deepest canyons in the land. Their walls terraced, like stairs, for long strides down to the river. Streams skipped and tumbled clear down, silvery and sparkling—and met the gray surge, became one, fortified themselves; the river steadily gained power as it neared the sea. A second river jetted from the glacier in another place, where the glacier had a different form and released fine sediment, not sludge. A brighter aspect, gentle meanders, a waterfall named for its magic. An opening of basalt columns in the deepest stratum, where the rivers met, joined, and became a stronger whole. Between them, below the glacier, a tongue of land: Kringilsárrani. Wedged in by the glacier and two rivers: isolated, cut off. Yet not cut off from the animal kingdom. Geese flew there, reindeer waded over in spring when the glacier, still cold, released less water. Geese built nests and established breeding grounds, among the largest in Iceland; this was fine country, a safe place to raise young, protected by two rivers and the continent´s largest glacier. Springy soil, dense vegetation, streams, ponds. Knotweed, favored by geese. In the ponds, crustaceans, lepidurus arcticus. Reindeer antlers scattered about, gnawed to bits by the herd, by animals that lost antlers but provided stores of calcium for themselves and their kin. The soil covered with goose turds plucked apart by goose beaks pecking for delicious knotweed seeds. In the air an animal-kingdom smell but no sign of animals; the animals, keen to human odor, stay out of sight. The glacier a rare formation, tongue-flat, bursts once in a scant human lifetime. Bursts a long distance and peels up the ground. Rolls it up like an old-fashioned jellyroll. Rolls and rolls it to wherever it decides to stop this time. Leaves behind heaps, the Haystacks. In their layers a history of vulcanism, interspersed with goose turds and reindeer antlers. The heaps form shelters, ponds. Community centers for geese and reindeer and those who venture near the glacier. A lump in the throat, a blockage at Háls, the rivers dammed: it all went dark.
Ósk Vilhjálmsdóttir
transl. Sarah Brownsberger
projects