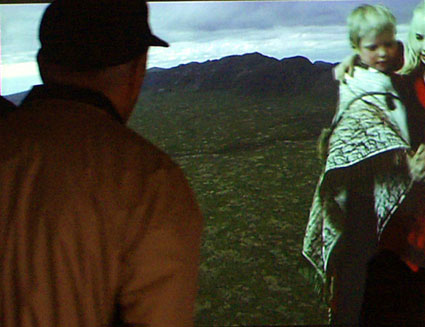 BWA-Galerie Sztuki Wspótczesnej
.. Nature is invaluable and so is life from its very start in the womb, our children and the freedom to live our lives in peace. In a perfect world all this belongs to everyone but we do not live in that world, our world is complicated by innumerable things which start at home and extend to the international community, political, economical, commercial and artistic.
The tension that this creates is a theme that connects all the artworks of POLIS, a show created by five Icelandic women artists. The freedom of our children is what Ósk Vilhjálmsdóttir deals with in her work, images of the role-playing which starts at an early age are set against a background showing the fast growing capital of Iceland. Along with this sounds the empty laughter usually connected with soap-operas on TV, now eerie and hollow, reflecting on the complicated society children are a part of today.
Ragna Sigurdardóttir
projects